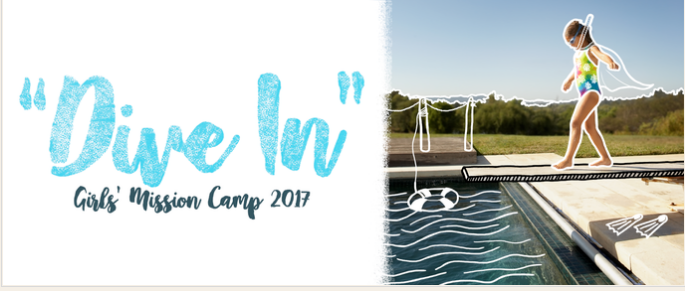 Girls Mission Camp 2017
Dates: July 23-26
-Girls Mission camp is for Girls in Action and other girls who have completed grades 1-6
---
Theme:
Dive In
Scripture:
"He answered, "'Love the Lord your God with all your heart and with all your soul. Love him with all your strength and with all your mind.' And, 'love your neighbor as you love yourself.'" 'You have answered correctly,' Jesus replied. 'Do that, and you will live.'" (Luke 10:27-28)
Featuring:
IMB Missionaries from South Africa
Pastor:
Joe Wood
Worship:
Molly Jo Johnson
---
Cost
$140
Checks made payable to Women's Missions and Ministry. Mail completed registration form and check to:
Women's Missions and Ministry
PO Box 311
Alexandria, LA 71303
Registration Packet
Girls Mission Camp Registration Packet
Registration Deadline: June 30, 2017
Registration will continue through the Women's Missions and Ministry team at Louisiana Baptists. You may call 318.449.4266 or 1.800.622.6549 or email Jess.Archer@LouisianaBaptists.org with questions about camp. If you have questions about camp facilities, please call the Tall Timbers office at 318.445.6797
In Spring 2017 you may also visit www.LouisianaBaptists.org/girlsmissioncamp
2017 Sample Schedule
Sunday
1:00 – 4:00 PM      Arrival/Check-in
1:00 – 4:00 PM      Free Time on Campus with Activities
5:00 – 6:00 PM     Cabin Leader Connection and Orientation
6:00 – 6:55 PM      Dinner
7:00 – 9:00 PM      Opening Celebration and Evening Activities
Wednesday
Camp concludes at 12:00 PM
Activities include: Missions, Crafts, Camptivities, Ropes Course/Zipline (Grade 5-6), Hiking, Bible Study, LUAU, Bazooka Ball, Swimming, Paddle Boating and more!